Description
Rule1 infused the goodness of whole-grain oats with fast-acting, heat-stable, hydrolyzed whey protein to deliver a hearty meal in minutes. Easy Protein Oatmeal™ is built to fuel every adventure, from classroom to weight room.
Made with real dried fruit pieces, Rule1 Easy Protein Oatmeal™ comes in a variety of flavors. Available in single-serve cups or as a variety pack containing Maple Brown Sugar, Apple Cinnamon, and Banana Nut flavors. Each individually packaged cup contains a convenient, travel-sized spoon. 
Rule1 Easy Protein Oatmeal Highlights: 
20g complete protein per serving
Heat-stable, 100% whey protein hydrolysate
Hearty, whole-grain, ground oats
Good source of dietary fiber
3.5g-4g fat, 1g saturated per serving
Rich in EAAs and BCAAs
ZERO Incomplete Protein Sources
ZERO Artificial Flavors
ZERO Banned Substances
ZERO Trans Fat
Maple Brown Sugar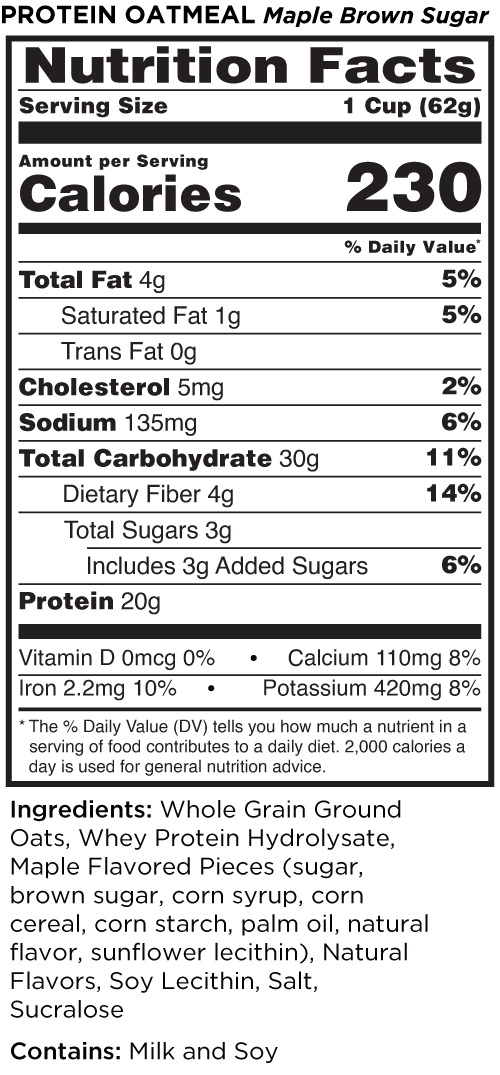 Apple Cinnamon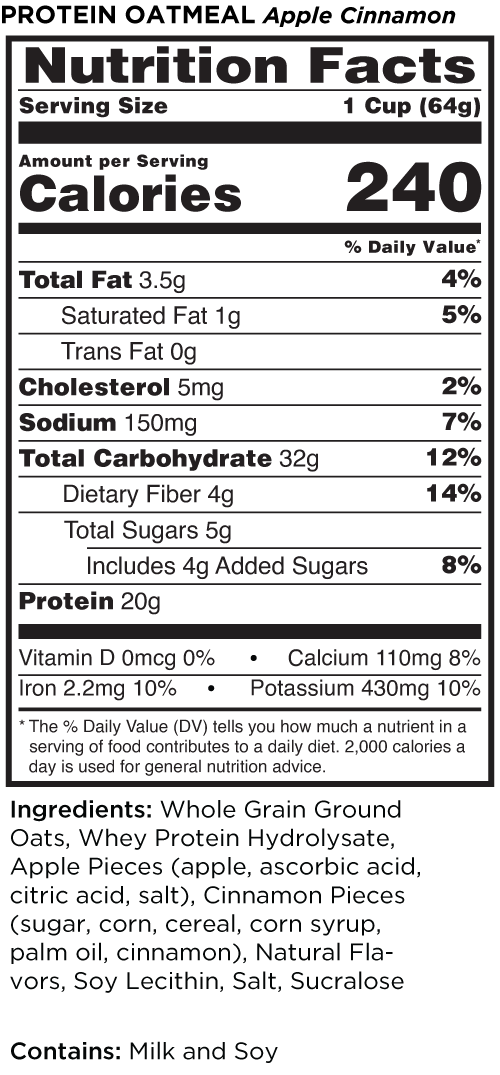 Banana Nut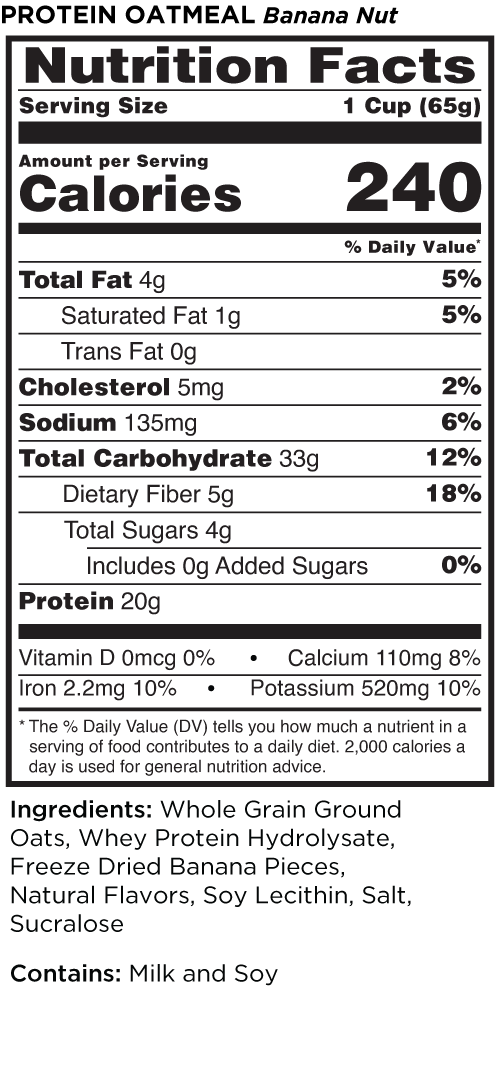 Toss a travel-ready cup into your gym bag, backpack, or briefcase. Easy Protein Oatmeal™ is shelf-stable for up to two years when stored in a cool, dry place. 
Directions: 
1. Remove lid, protective seal, and spoon. 
2. Add 4 oz. water to cup and stir well. Add slightly more liquid for a thinner consistency. 
3. Microwave on high for 45-60 seconds. (Cooking times may vary based on your microwave's power and efficiency.) 
4. Remove from microwave, stir contents, cover with lid, and wait 2-3 minutes for oats to soften. Enjoy! 
Directions: Overnight Oatmeal 
1. Remove snap-on lid and inner safety seal. 
2. Stir in 2-4 oz. dairy or plant milk. Avoid leaving any dry pockets of oatmeal at the bottom of the cup. 
3. Cover the container with snap-on lid and refrigerate overnight. 
4. The mixture will soften overnight as the oats and protein absorb the milk. In the morning, give it a quick stir. Your tasty breakfast will be ready to eat, right from the cup.
Loading...
Nutrition Facts
Serving Size:
Serving Per Container:
SmartPoints® :
| | Amount Per Serving | % Daily Value |
| --- | --- | --- |
| | | |
Nutrition facts data not found for selected product.
---
* Percent Daily Values are based on a 2,000 calorie diet.
Ingredients:
Recommended Use:
Warning:
Certifications: kosher
The tryptophan in the product is naturally occurring.
This product may contain traces of nuts.
Excess consumption may cause a laxative effect.
Before beginning any program of weight loss, consult your health care practitioner. These statements have not been evaluated by the FDA. This product is not intended to diagnose, treat, cure or prevent any disease.
PHENYLKETONURICS: Contains Phenylalanine.
Keep all xylitol and xylitol containing food products out of reach of dogs. Even small amounts can be toxic to dogs. If you suspect your dog has eaten a xylitol-containing food, please contact your veterinarian immediately.
---
If you notice any errors in the information above, please let us know. If you have further questions about this product, please contact us
SmartPoints® values are calculated by Netrition, Inc. and are for informational purposes only. Netrition, Inc. is not affiliated in any way with Weight Watchers®. Weight Watchers® is the registered trademark of Weight Watchers International, Inc. SmartPoints® is a trademark of Weight Watchers International, Inc.
The nutrition facts listed above are supplied as a courtesy to our customers. The nutrition facts were current and accurate to the best of our knowledge at the time they were entered. Manufacturers often change formulas or ingredients without notifying us. We do our best to keep them as up to date as possible, however Netrition.com will not be held responsible for any differences between what is listed on our web site and what is listed on the product that you receive. If you need to be 100% certain of the ingredients currently being shipped, we recommend that you call or email our customer service department to check the shelf of current stock.