Description
Take your performance and recovery to the next level with Hydrate; rehydrate your body and feel unbeatable without the added sugar, chemicals, or artificial dyes. Unlock the power of hydration with Hydrate! How hydrated are you feeling today?
• HYDRATION | Supply your body with the optimal BALANCE of electrolytes to keep you Hydrated and energized daily.
• RECOVERY | Stress, workouts, heat, lack of water, hangovers. Each of of these can lead to detrimental dehydration. HYDRATE helps replenish your body so you can feel and be your best. 
• ENDURANCE | Since 70% of your body is made of water, if you aren't hydrated, your cells will not work properly. That includes brain and muscle function, work capacity, and can even lead to total body fatigue.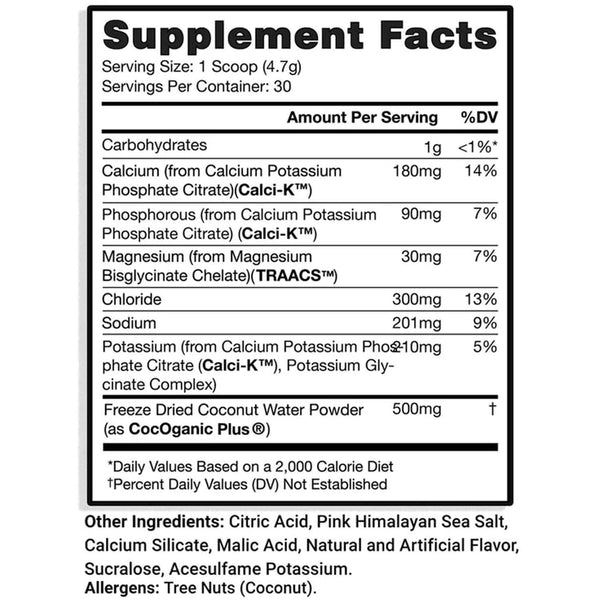 Hydrate's Ingredients were each chosen for their scientifically proven benefits and impact on your wellbeing. Here's a breakdown of each:
•Himalayan Pink Salt: For centuries, this rock salt has been used for its plethora of positive effects on the body. It contains more than 80 minerals and elements. It helps with detoxification and removal of bacteria from the body, lowering of blood pressure, improving digestion, and even quality of sleep.
•CocOganic Plus: It's abundant in a plethora of electrolytes that support rapid hydration. It's  a very good source of B-complex vitamins such as riboflavin, niacin, thiamin, pyridoxine, and folates. 
•Magnesium: This mineral is crucial for the body to function properly because magnesium is involved in more than 600 of the body's enzymatic reactions. Ensuring it's levels in your body are high can help boost exercise performance, support healthy blood sugar levels and heart health, fight inflammation and support sleep.
•Calcium:  Responsible for strong bones, teeth, and muscles, and has other benefits including regulating the flow of blood in your body, assisting in the contraction of your muscles, communication between nerve cells, and even contributes to proper blood clotting. 
•Phosphorous: Needed for the body to produce protein and ATP. In addition, due to its interworking with B vitamins, it helps with kidney function, muscle contractions, regulating heartbeat, nerve signaling, and formation of bones and teeth.
•Potassium: Helps keep body fluids in balance and regulates acidity, blood pressure, and neuromuscular and cardiovascular function. It also helps the body manage anxiousness and stress. Potassium helps to aid in electrolyte functions, reduced anxiousness, improving cardiovascular health, muscular development, and maintaining healthy blood pressure.
•Chloride: Functions include proper uptake of water and nutrients for the cells, muscle contractions, nerve messaging, balancing bodily fluids and blood pressure, digestion, and the process of oxygenation.
Direction: Hydrate is wildly versatile. You can mix 1 scoop in a glass of water for fast replenishment. OR you can mix 1-2 scoops in a half gallon and zip on throughout the day to help flavor your water and consume more water on a daily basis.
**This product is only intended for healthy adults, 18 years of age or older.

Loading...
Nutrition Facts
Serving Size:
Serving Per Container:
SmartPoints® :
| | Amount Per Serving | % Daily Value |
| --- | --- | --- |
| | | |
Nutrition facts data not found for selected product.
---
* Percent Daily Values are based on a 2,000 calorie diet.
Ingredients:
Recommended Use:
Warning:
Certifications: kosher
The tryptophan in the product is naturally occurring.
This product may contain traces of nuts.
Excess consumption may cause a laxative effect.
Before beginning any program of weight loss, consult your health care practitioner. These statements have not been evaluated by the FDA. This product is not intended to diagnose, treat, cure or prevent any disease.
PHENYLKETONURICS: Contains Phenylalanine.
Keep all xylitol and xylitol containing food products out of reach of dogs. Even small amounts can be toxic to dogs. If you suspect your dog has eaten a xylitol-containing food, please contact your veterinarian immediately.
---
If you notice any errors in the information above, please let us know. If you have further questions about this product, please contact us
SmartPoints® values are calculated by Netrition, Inc. and are for informational purposes only. Netrition, Inc. is not affiliated in any way with Weight Watchers®. Weight Watchers® is the registered trademark of Weight Watchers International, Inc. SmartPoints® is a trademark of Weight Watchers International, Inc.
The nutrition facts listed above are supplied as a courtesy to our customers. The nutrition facts were current and accurate to the best of our knowledge at the time they were entered. Manufacturers often change formulas or ingredients without notifying us. We do our best to keep them as up to date as possible, however Netrition.com will not be held responsible for any differences between what is listed on our web site and what is listed on the product that you receive. If you need to be 100% certain of the ingredients currently being shipped, we recommend that you call or email our customer service department to check the shelf of current stock.