Description
These tasty raspberry-flavored gummies promote healthy sleep patterns for a more restful, deep slumber throughout the night.*
Zero Sugar Melatonin Gummies by Nordic Naturals Highlights:
Delicious raspberry-flavored gummies with 1.5 mg melatonin per piece
Helps maintain healthy sleep patterns throughout the night for a deep, more restful slumber*
Provides antioxidant support*
Gelatin-free, vegan gummy for adults
Zero sugar, artificial coloring or flavoring, or preservatives
Non-GMO Verified
3rd Party Purity Tested
Vegan
Vegetarian
At Nordic Naturals, they're committed to delivering the world's safest, most effective nutrients essential to health. It's what motivates them to ensure that all their products are research supported, expertly formulated, rigorously tested, proven effective, and best of all, great tasting.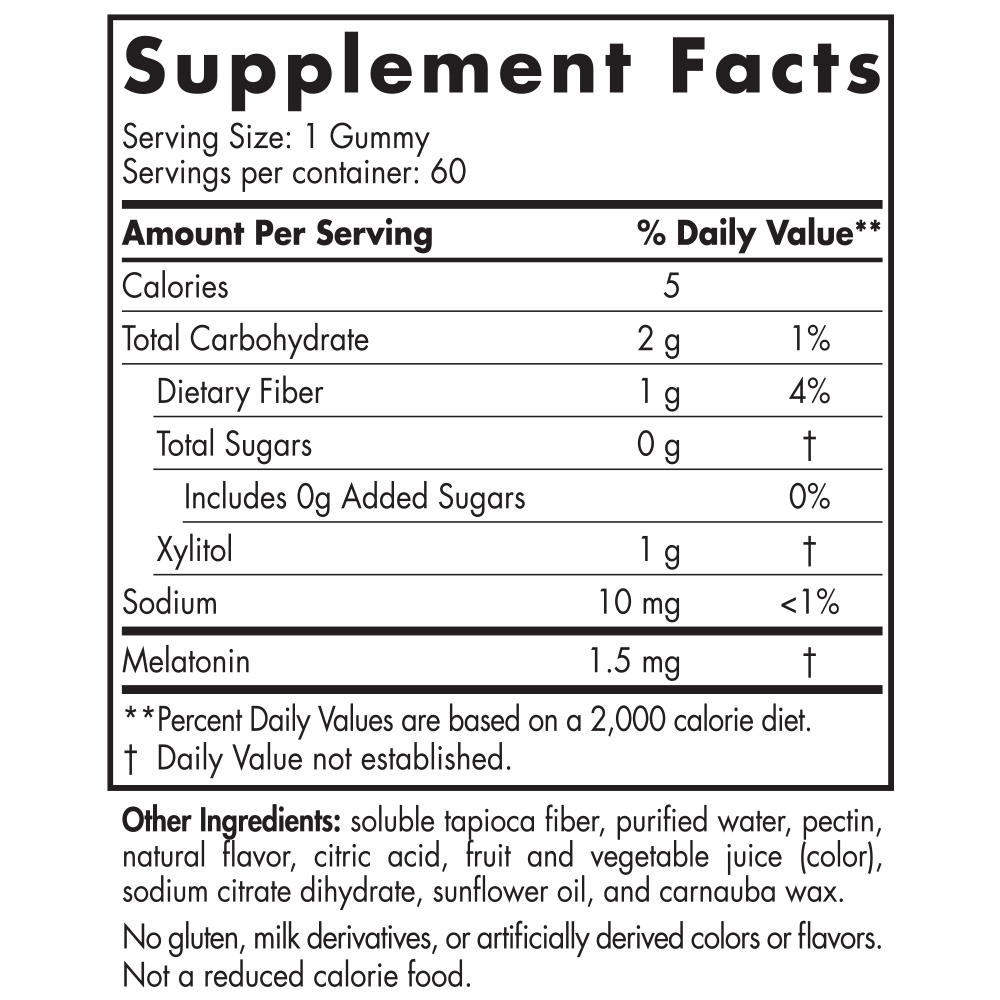 Suggested Use:
 For adults, one gummy (or two if needed) before sleep, or as directed by your health care professional or pharmacist.
Loading...
Nutrition Facts
Serving Size:
Serving Per Container:
SmartPoints® :
| | Amount Per Serving | % Daily Value |
| --- | --- | --- |
| | | |
Nutrition facts data not found for selected product.
---
* Percent Daily Values are based on a 2,000 calorie diet.
Ingredients:
Recommended Use:
Warning:
Certifications: kosher
The tryptophan in the product is naturally occurring.
This product may contain traces of nuts.
Excess consumption may cause a laxative effect.
Before beginning any program of weight loss, consult your health care practitioner. These statements have not been evaluated by the FDA. This product is not intended to diagnose, treat, cure or prevent any disease.
PHENYLKETONURICS: Contains Phenylalanine.
Keep all xylitol and xylitol containing food products out of reach of dogs. Even small amounts can be toxic to dogs. If you suspect your dog has eaten a xylitol-containing food, please contact your veterinarian immediately.
---
If you notice any errors in the information above, please let us know. If you have further questions about this product, please contact us
SmartPoints® values are calculated by Netrition, Inc. and are for informational purposes only. Netrition, Inc. is not affiliated in any way with Weight Watchers®. Weight Watchers® is the registered trademark of Weight Watchers International, Inc. SmartPoints® is a trademark of Weight Watchers International, Inc.
The nutrition facts listed above are supplied as a courtesy to our customers. The nutrition facts were current and accurate to the best of our knowledge at the time they were entered. Manufacturers often change formulas or ingredients without notifying us. We do our best to keep them as up to date as possible, however Netrition.com will not be held responsible for any differences between what is listed on our web site and what is listed on the product that you receive. If you need to be 100% certain of the ingredients currently being shipped, we recommend that you call or email our customer service department to check the shelf of current stock.